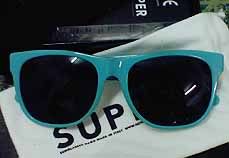 sold*yap*
super by retrosuperfuture
Hand Made in Italy
by the best manufacturers and with the best materials.
SUPER also decided to adopt ZEISS lenses, which guarantee an extremely
high level of protection to the eyes in all conditions.
Kanye West, Daft Punk, Who Made Who, Justice,
Pedro Winter (and his "Ed Crew"), Simian Mobile Disco,
CSS, St. Vincent, The Kills, Elio Fiorucci, Sienna MIller,
Jessica Alba and Valentino Rossi
are just a few who have been seen sporting a SUPER.
rm400